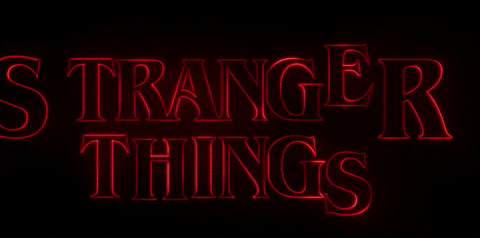 Being a hardcore film fanatic, cinephile, and a huge sucker for the horror/drama genre, believe me when I tell you that many films and tv series have treaded on this path, but have lost themselves in the genre to such an extent that they've never found their way out of it. However, Netflix's latest original series, Stranger Things,  is not one of them.
Let me begin by letting my state of ecstasy and amazement drool over: WHAT A BRILLIANT WORK OF ART THIS HAS BEEN! From the moment I have stumbled onto this series, I have somehow been intrigued by the very outlook of the show, and even now as I pen down my thoughts about it, I'm left awe-struck.
This show had everything you would expect from a series in this genre. Set in the magical period of the 1980s, we get to see mystery meet naivety, in the small guileless town of Hawkins, Indiana. The creators of the series, The Duffer Brothers, brilliantly paid a successful homage to the great sci-fi drama and horror flicks of the 80's especially to Steven Spielberg's E.T. , Poltergeist and The Goonies. Watching the series, you could get vibes of the genius work of cinema in the past such as John Carpenter's The Thing (1982) and Stephen King's It (1990). Not only does it look like its set in the 80's, but also FEELS like the 80's. And that too right from the start. With a very "Tron-esque" way of fonting the title of the series in red-neon in the opening credits complemented by an outstanding score featuring chilling tunes on synths, you'll soon realise the lengths that The Duffer Brothers have gone to, to preserve their homage to the 80's.
The story revolves around a bunch of young kids playing the classic game of Dungeons & Dragons in the basement, when on the same night, one of them, namely, Will Byers, mysteriously disappears and to no one's knowledge. It is up to the anxious mother, the other kids, and the rest of the town to frantically look for the missing boy while being simultaneously drawn into mysterious supernatural events around town concerning a government facility and a very innocent yet strange little girl.
The gallantry of this series didn't just lie in the score, story, or direction but also in the great casting that was considered for the show. Winona Ryder, of Beetlejuice (1988) and Girl, Interrupted (1999) fame, was one of the reasons for this show's swooping success. Playing Joyce, the "over-anxious" (for lack of a better word) mother, Winona Ryder totally stole the show with her superlative ways of effortless and effective acting. You could almost feel the pain and insane desperation to find her missing child in each and every scene she had, and she had many, including numerous solo scenes.
David Harbour's role as the town's disgruntled chief of police Jim Hopper, can easily be stated as one of his best roles till date. Despite mourning a loss in his past, Jim Hopper stands affirm and does his job of  finding answers to the unexplainable events occurring in his town.
Ah, moving on to the younger crowd, the four kids and the innocent girl were my favourite casting of the series. Without such an adventurous, bold, and fun group of kids, this series wouldn't have been worth it and it would have turned out to be just another serious and dark supernatural story. Mike, Lucas, Dustin and Will played by Finn Wolfhard, Caleb McLaughlin, Gaten Matarrazzo and Noah Schnapp respectively, showed off their rising talents as the 'bff' gang looking out for each other especially when one of them goes missing. The mysterious girl, Eleven, played by Millie Bobby Brown, gets a standing ovation for her brilliant acting. All of these characters were adorable and you'll find  yourself rooting for them as they move around tackling the government officials at the hush-hush government facility (which reminded me of X-files!) as they continue their quest to find their dear friend, Will.
The plot might just seem like an ode to many greats of the genre in the past, but it still came out as a blossoming original with dark twists and a heart-wrenching finale. One could easily figure out the plot within minutes when it came to movies like E.T. or The Predator. But it took me a full 5-6 episode showdown with the twists and turns to get excited about what was actually going around here. Considering the fact that Stranger Things has an eight-episode long run in the first season, it took me halfway in the series to get ahold of what exactly was going on, which is kinda cool. This goes to show how greatly in depth The Duffer Brothers have gone to deepen the plot and make it all explode out in the last few episodes of the season.
As I am reviewing slightly later than most, I can finally vouch for Netflix agreeing to get another season for Stranger Things. The only spoiler I can give out is that there is a cliffhanger in the end, making it safe to say that Netflix might plan on getting the series renewed for another season with the great popularity and love it has got from the viewers. And as much as I am tapping my legs on the floor in excitement to get another season of this impeccable show, somehow I feel that even if Netflix does not renew it, the series was a great addition to cinema and tv entertainment and was a well-made complete series on its own.
I conclude by highly recommending this retro-classic styled big performer for a watch. Sit back, and let the characters, plot twists, supernatural horrors, thrilling score and the 80's theme blend and transcend to leave you with an enthralling experience.
Reel Rating: 8.5/10
---
Follow TheBrownBlackOrange for more upcoming reviews on his page Reel Talk!